Russia says it has taken control of Ukrainian salt-mine town Soledar after a months-long battle, calling it an "important" step for its offensive.
The victory would allow Russian troops to cut off Ukrainian supply routes in the nearby larger city of Bakhmut, the defence ministry said.
Ukrainian officials said the fight for Soledar was still going on and accused Russia of "information noise".
The fighting around Soledar has been some of the bloodiest of the war.
Barely any walls remained standing in the town, Ukraine's President Volodymyr Zelensky said this week. Describing almost apocalyptic scenes, he spoke of the nearby terrain as scarred by missile strikes and littered with Russian corpses.
His chief of staff, Andriy Yermak, compared the fight for Soledar and Bakhmut to one of the bitterest battles of World War One, at Verdun.
Regional governor Pavlo Kyrylenko said on Thursday that 559 civilians including 15 children remained in the town and could not be moved out.
Soledar's significance for the Russian military is disputed by military analysts because of its relatively small size. But seizing Soledar would likely be hailed as a victory in Moscow after months of failures and setbacks in Russia's 10-month war.
The US-based think tank Institute for the Study of War said hours earlier that it was likely that Russian forces had captured Soledar, but it did not believe they would then be able to go on to encircle Bakhmut.
Serhiy Cherevatyi, spokesperson for Ukraine's eastern military command, said Russia had sent its best mercenary fighters and other units to Soledar. Denying that Soledar was in Russian hands he said: "We won't give any more details as we do not want to reveal the tactical positions of our fighters."
Deputy defence minister, Hanna Malyar, said fighting had been "hot in Soledar overnight". Ukrainian fighters were "bravely trying to hold the defence", she added, in what was a difficult stage of the war.
President Volodymyr Zelensky described Soledar, Bakhmut and the wider defence of the Donetsk region of eastern Ukraine as the top issue in his nightly address hours earlier.
The Russian defence ministry said full control of Soledar meant that not only would supply lines to Bakhmut be cut but that Ukrainian forces there would be cut off and surrounded.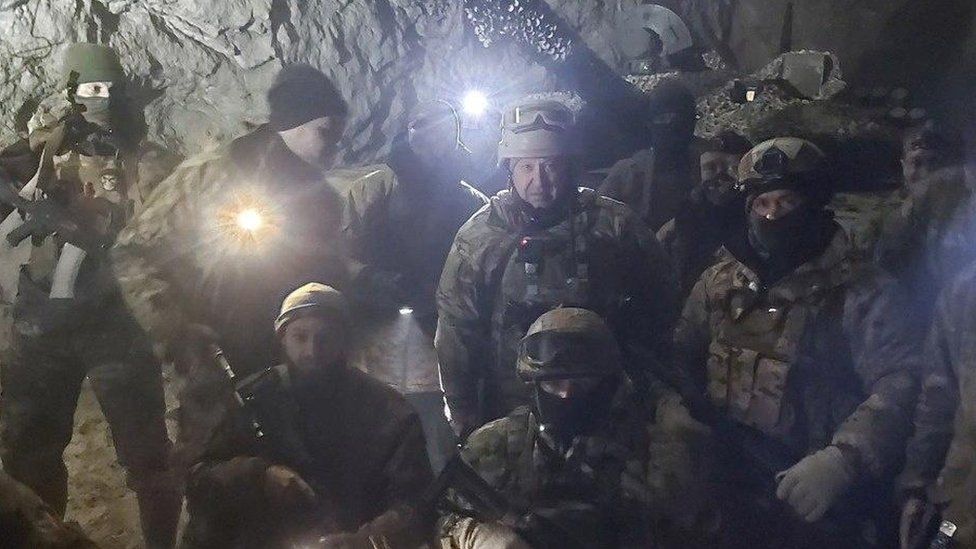 It was Moscow's first official declaration that Soledar was under Russian control and made no mention of the mercenary group Wagner, which has been leading much of the fighting in the region.
The group's boss, 61-year-old Yevgeny Prigozhin, claimed on Tuesday night that his mercenaries had seized Soledar, only to be contradicted by Russia's defence ministry the next morning.
A photo was produced purporting to show Prigozhin with fighters in Soledar's salt mines, but Ukraine said it was taken elsewhere.
The broader failings of Russia's invasion of its neighbour have led to apparent splits between the top brass and the mercenary leader.
While Russia has mobilised some 300,000 reservists for the war since the end of September, Prigozhin has looked to recruit extra numbers from Russia's prisons.
Andriy Yermak told French daily Le Monde that Russian criminals had been sent straight to their deaths on the front line: "Soledar is a scene of street battles, with neither side really in control of the town."
Asked to comment on the latest development, Prigozhin said he would stay silent but made a cryptic remark saying "the boat is rocking".